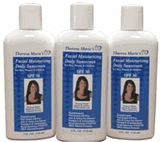 Facial Moisturizing Lotion SPF 30 Daily Sunscreen
Regular price: $29.95
Sale price: $24.95
About Facial Moisturizing
Facial Moisturizing SPF 30 Daily Sunscreen – Theresa Marie's brand (Price is per 4 oz. bottle).
Theresa Marie's Facial Moisturizing Sunscreen is fortified with green tea and antioxidants for protection, and blended with other skin-loving botanicals. This non-irritating/hypoallergenic facial lotion is perfect for every skin type gentle enough for children.
This luxurious photo-stable formula offers excellent protection from the harmful elements of the sun, while moisturizing and nourishing the skin. This all natural sunscreen contains Titanium Dioxide and gives broad band protection against both UVA and UVB rays. It helps skin from burning and can prevent skin cancer. Keep your skin beautiful and healthy with Theresa Marie's Sunscreen.
Compare Theresa Marie Facial Moisturizing SPF 30 Sunscreen 4 ounce $24.95 to Clinique City Block SPF 25 Sunscreen 1 ounce counter price $19.00.
| | |
| --- | --- |
| Container Size | 4 Fl. Oz. (118 ml) |
| Active Ingredients: | |
| Titanium Dioxide | 6.00% |
| Zinc Oxide | 6.00% |
Other Ingredients: Aqua (Deionized Water), Aloe Barbadensis Leaf (Aloe Vera Gel) Juice, Helianthus Annuus (Sunflower) Seed Oil, Glycine Soja (Soybean) Oil, Lecithin, Glycerine, Prunus Amygdalus (Sweet Almond) Oil, Daucus Carota (Carrot) Extract, Camellia Sinensis Leaf (Green Tea) Extract, Tocopheryl Acetate (Vitamin-E), Theobroma Cacao (Cocoa) Seed Butter, Xanthan Gum, Phenoxyethanol, Ethylhexylglycerin.
Directions: Apply to skin immediately prior to sun exposure. Re-apply every 90 minutes or immediately after bathing or toweling.
SUN ALERT: Limiting sun exposure, wearing protective clothing and sunscreen may reduce the risks of skin aging, skin cancer and other harmful effects of the sun.