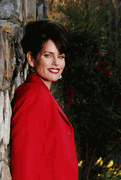 TMarie Hutson was born and raised in Indialantic Florida. Her education includes a Bachelors degree in English and Psychology and Masters in Psychology. TMarie is a Lifestyle /Image Psychologist and Life Coach with over twenty years of experience. She specializes in image consulting and is an expert in the areas of; make-up, wardrobe, fitness, weight loss, social skills, etiquette, relationships and conflict resolution. TMarie is trained as a Personal Trainer through AFAA and is an Obesity and Weight Loss Expert through LivePerson.com. She has also been trained by the National Institute of Health and Duke University as a Cancer Information Specialist. This training included prevention, intervention and clinical trials. Specifically, this included skin health and skin cancer prevention. TMarie has worked with individuals, companies, employees, schools, universities and hospitals.
After losing weight, TMarie started a whole new career. She became and worked as an International Commercial Model and Spokesperson. She has represented United Airlines and Harrah's Casino. She has promoted products and appeared in an international commercial in Bermuda. In 2009, TMarie was critiqued by her Beverly Hills CA agent regarding her style and presentation. Her agent said " Don't change a thing…you are the complete package…you are perfect for television." TMarie IMDb.
In 2010, TMarie was a Co Host and Producer for the Exchange Diet Show. For this show,TMarie designed both the content and nutrition. The Exchange Diet Show appeared on the FUJI Network in Japan. Also, TMarie was named as "One of Hollywood's Hottest Cougars" by the ABC Cougartown TV show. Her representation includes; BP Models in Beverly Hills and ENVY Model Management in Los Angeles. TMarie has been viewed by over 110 million people worldwide through United Airlines, Harrah's Casino and the Fuji Network in Japan. Also, TMarie has worked in national HBO, NBC, CW, and ABC TV shows,live TV, commercials and film.
Recently, as an Instructor at the College of Southern Nevada, she has taught courses on image and presentation. Also, she has been co-producing a Feature Film. In 2013, TMarie appeared as a Guest on the CBS Daytime TV show The Doctors season premiere episode. The show was a fund raising effort for the Red Cross to raise money victims of the Hurricane Sandy. For great advice, check out TMarie's self help book, Model Advice.